Any effective solution starts with accurate truck diagnostics.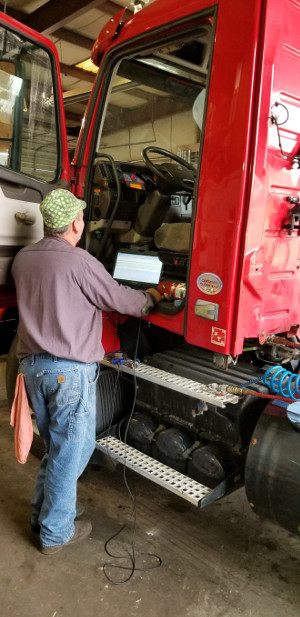 When you are having a problem with your truck, you don't want your downtime to be any longer than necessary. If your diesel mechanic takes a long time with truck diagnostics and then making the repairs, your lost revenue could exceed the repairs by a significant amount. Here at Mid Carolina Diesel, we've been in your shoes. Our owner, Jerry Prater, has experience as a truck driver and operating a trucking company, so he understands how important it is to conduct truck diagnostics and repairs as quickly and accurately as possible.
We have more than 25 years of experience in the industry and a passion for providing our customers with reliable and affordable solutions to both truck and trailer issues. We will even try to find used parts if you want the most cost-effective option. We offer both preventative maintenance and repair services, so you can always have peace of mind that your truck will perform reliably for you.
We are a close-knit company with dependable diesel mechanics with exceptional experience with truck diagnostics and problem resolution. We all grew up in the same community, so we care about the trucking professionals in the Mocksville, North Carolina area. You can count on us to provide the best solution for your needs and explain your options so you can decide how to proceed.
When Your Truck Has a Problem, Turn to Us for Reliable Diagnostics
Mid Carolina Diesel – the only company offering The Teraclean process in the area!
If you have any questions about truck diagnostics or our maintenance, inspection, and repair services, don't hesitate to contact us. We'll get you back on the road as promptly as possible in the most effective and affordable manner. Call today to learn more.