When something just doesn't feel right, bring your truck in for engine repair.
It is a good thing that diesel trucks are not limited by the 100,000 to 200,000-mile lifespan that most automobiles are, or it would be challenging to make a living as an owner-operator or as a trucking company. While a semi-truck can easily get between 500,000 and 1 million miles or more, this is not to say that they won't need engine repair from time to time. A lot will depend on whether you do long hauls or frequently drive in local stop-and-go traffic and how well you keep up with routine maintenance.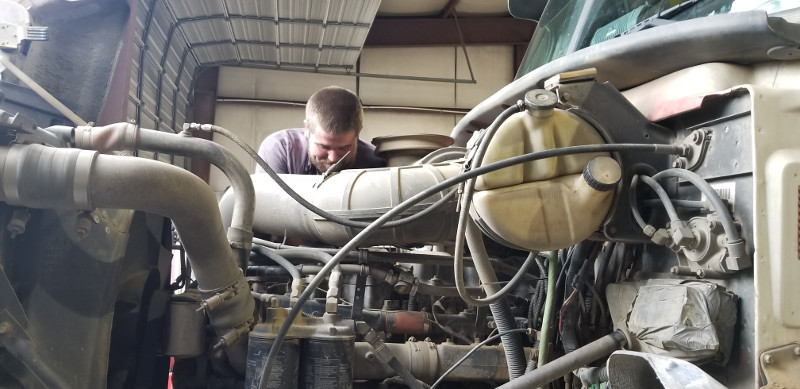 To keep your truck in top condition, turn to our professionals at Mid Carolina Diesel. We recommend coming in to see us for engine repair if you notice any of the following warning signs:
Reduced Engine Power: If you find you are struggling to reach the top speed you used to or are unable to handle the cargo weight you have in the past, it can be a sign you have lost cylinder compression. We will quickly diagnose the problem by looking at the piston rings, head gasket, and valves and performing the needed engine repair to restore engine power.
Loss of Fuel Economy: Paying extra for fuel is a real hit to your profits, but also a sign that something is wrong. Poor fuel economy is generally caused by damaged or worn injectors.
Learn What's Going on with Your Truck
Knocking Noises: If you spend hours a day in your truck, you know how it sounds and could swear you can hear it in your sleep. If something sounds amiss, don't delay with engine repair, or you could find yourself stranded. It could be anything from oil contamination or a combustion timing issue to a damaged main bearing, liner seal, or piston skirt.
Exhaust Color Change: If you notice the exhaust has a blue or black color, this is an indication that the fuel environment is too rich or lean because of an issue with a cylinder liner, injector, or piston ring.
Increased Oil Consumption: Along with an exhaust color change, if you notice increased oil consumption, you are burning oil. Increased consumption without an exhaust color change is a sign of a leak.
These are just a few of the signs that you need engine repair. When you spend countless hours behind the wheel, it is generally easy to tell when something doesn't see, smell, sound, or feel right. If you are concerned about your engine, give us a call, and we'll make it right, so you can protect your investment and livelihood.
Come see us and get see the difference The Teraclean process makes in your engine!
Similar Services We Offer: