Have peace of mind your cargo is safe with our full line of trailer services.
If you are an owner-operator responsible not only for the dependability of your truck, but also the condition of the trailer, you'll be happy to learn that here at Mid Carolina Diesel, we also provide top-quality, affordable trailer services. You can count on the same dedication to quality that we put into truck services, so you can stay on the road and deliver your load in a timely fashion. Here are the trailer services we provide to our customers in the Mocksville, North Carolina area: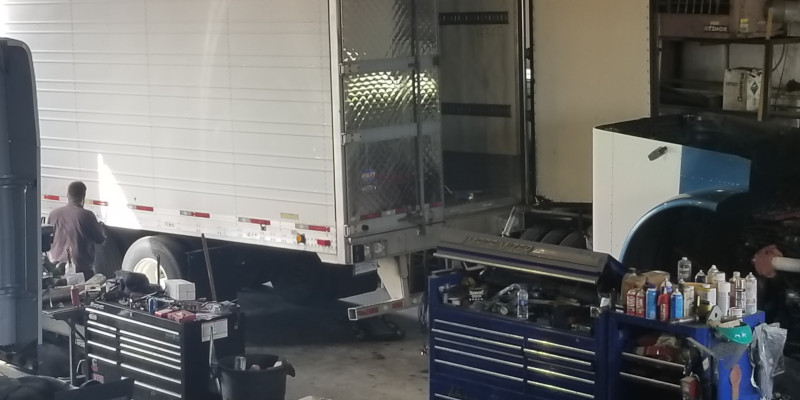 Inspections: Keeping up with inspections is a safety issue you don't want to forego. A problem with a trailer can endanger others on the road, not to mention the investment you have in your truck, and even pose a risk to you personally. A regular inspection will give you peace of mind and also provide documentation to prove you take trailer maintenance seriously.
Floor and Door Repair: The last thing you need is to be held liable for loss of part of or an entire load because the floor or door of your trailer failed. Let us inspect and repair these pieces before they become a risk to your profits.
Brake Repair: Most owner-operators never fail to keep the brakes on their truck in top condition, but they sometimes overlook the brakes on the trailer, which are just as important. Have us check those out during routine trailer services and make any repairs needed.
Lighting & Wiring: We can quickly diagnose and resolve any issues with the wiring in your trailer, so you won't be fined for lights out, or worse, be involved in an accident because a driver wasn't alerted properly due to your brake lights or turn signals not working.
Tires: Affordable, reliable tires for your trailer are just as important as the ones on your truck, and may be even more so. We'll provide the right solution for your trailer tires to fit your usage and budget. We also perform alignments to reduce the wear on your trailer tires.
OSHA Certified: We are OSHA certified for oil and fuel spill cleanup, so we are equipped to help you in a situation involving potentially dangerous substances.
If you have any questions about our trailer services or would like to make an appointment, don't hesitate to contact us.
---
You can trust our team for top-notch service every time.
We recommend regular trailer inspections to keep your equipment running smoothly.
Is It Time to Change Your Trailer Tires?
Here at Mid Carolina Diesel, one of our most common trailer services involves tires. We understand that these tires are far from inexpensive, so you want to get the most life from them as possible, but the hazards of worn-out tires merit paying close attention to the treads and tire condition. Here are a few things you should know about when to stop by for a tire inspection or new tires.
Mileage- Truck trailer tires are designed to last for a very long time, and you should expect to get at least 100,000 miles from them, depending on the quality and other conditions. If you are nearing that number, it is a good idea to have them checked out.
Replace Both Sides- If you do need to replace a tire, it is important to change the corresponding tire on the other side, as well. This is to protect the differential from expensive damage.
Inspect for Damage- A tire can have plenty of tread and still be in need of replacement. Look for cracks in the side walls, bulging, or other visual damage and bring your vehicle in for trailer services if you suspect something isn't right.
Check the Tread- You can check the tread on trailer tires just as you would other types of tires– insert a penny upside down between the treads, and if Lincoln's face is completely visible, it is time for new tires. Of course, uneven tread wear is something you should also watch for.
We have more than 25 years of experience as diesel mechanics.
Similar Services We Offer: